This post started life as a talk for the National Tertiary Education Union conference on Insecure Work. Thanks to the National Tertiary Education Union for inviting the Research Whisperer to be part of the conference, and for paying for my airfare and accommodation.
---
In the United States, in biotechnology research, a precipitous increase in PhD numbers over the last few years has resulted in unsustainable numbers of post-doc applicants.
People over there are calling it the #postdocalypse (figure 1). I want to use that as a jumping-off point for talking about insecure work in the research sector in Australia.
The situation in Australia is different to the USA. I'm looking mostly at contract research staff. That is, I'm looking at people who have insecure work, rather than people who are trying to get work. I do acknowledge, though, that the situation generally isn't as dire as in the US. I haven't heard of any postdocs here who are living out of thier cars. If you declare bankruptcy here, your student debt is wiped out, just like all your other debt.
Still, our data doesn't look good, whichever way you look at it.
Australia is currently experiencing the lowest level of government funding for research since we started keeping statistics in 1979 (figure 2).
I'm always hopeful that we will convince the government to restore funding to CSIRO, the CRC program, and to research areas other than medicine.
However, even in medical research, the picture isn't good. Those researchers who are getting funded are ageing, which means that younger researchers are less successful overall (figure 3).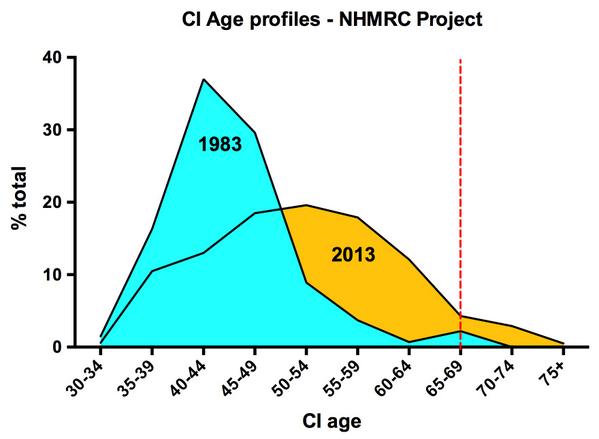 I don't know if this picture is the same for all disciplines, but I'm guessing it's pretty close.
What I do know is that 40 years of age (the peak in 1983) is a particularly important milestone for half the audience. This problem is slamming young female researchers every which way.
In November last year, Katie Mack (@astrokatie) wrote a beautiful piece for us about how this situation was affecting her. She wants to build a life, a relationship, maybe have kids. But it's tricky. As she says,
"I've moved internationally several times chasing the prospect of permanent academic employment. I have yet to convince anyone to come with me."
The response to her article was immediate and overwhelming. The article was widely discussed on forums as varied as the Chronicle of Higher Education, Reddit's Ladies of Science, and PhysicsToday. It jumped the language barrier to Italian and Polish.
It evoked a very real, heartfelt response (figure 4).
So, the issue is substantial and systemic. It's creating significant issues for a substantial constituency of early career researchers, particularly female researchers. Insecurity in work is one of those issues that doesn't just stay at work. It permeates all aspects of researchers' lives.
What can research leaders do?
The nice thing about the #postdocalypse hashtag is that it brings the discussion together. In any given discussion, there are people suggesting solutions. I want to talk about some of the helpful solutions in the #postdocalypse discussion. They haven't all come from there, but it has provided a useful focus. The recent #ECRchat on how to develop a career exit strategy had lots of good advice, too. All of this has been filtered through my own experienece. Errors, omissions and opinions are all mine.
For this post, I want to concentrate on what research leaders can do. Others have talked about this issue from a high-level, whole of sector approach. That's not my territory. I did have a section on what researchers can do, but I'll hold that over for a future post. I'm still thinking (and learning) about that bit.
Research leaders (centre directors, lab managers, group leaders) occupy a pivitol role in this issue. They are often on limited term contracts themselves, and have a team  are constantly looking at their end dates, looking for new positions. That means that research leaders spend a lot of time looking for good staff to replace the ones that they are losing. This doesn't work for anybody.
Here are some things that they can think about.
Know your history. If your group has been running for 25 years, and the lowest your funding has ever gone is $100,000, then step up and demand $100,000 worth of permanent salaried positions. History shows you can sustain that, year in, year out, no matter what. If your group is new, then start that conversation now, because I can promise you that it will be a long slow argument.
Know your value. The idea that research funding is 'soft' and teaching funding is some sort of 'hard' currency might have credence at the university level, but it is a fantasy at the unit level. A decent research group (centre or lab) can have a budget as big or bigger than a new teaching program. The risk in setting up some wacky new grad dip that is dependent on overseas student income is the same as setting up a new research group. So, don't let them tell you that your research dollars are somehow different from their teaching dollars. A dollar is a dollar is a dollar. It is the same currency so it should be governed by the same rules, including the same access to recurrent funding.
Know your international marketing value. The international university rankings are, to a greater or lesser extent, based on research activity. That means that your university's ability to attract international students is influenced by its ability to do good research. Your research has direct value to the marketing push for international students. It is worth reminding people of that, and maybe getting access to some of the marketing funds they spend in that space, too.
Diversify your funding. Do not depend on one single source of funding. I don't care whether you are a top-flight research group that wins ARC after ARC or a little educational research group that gets most of its funding from the State Education department. If 90% of your funding comes from one source, that's not an opportunity, it is an unacceptable risk. Your whole research program can be defunded by a change in government policy, something completely out of your control.
Know your funding sources. There are over 70 funding organisations on the Category 1 'Australian Competitive Grants Register'. Most researchers can name two (ARC and NHMRC), three if they've applied for an OLT or a rural industry research grant (even more, if they've worked in a Research Office!). Get to know them all. Beyond that, there is a whole galaxy of philanthropic funds, government schemes, and industry sources.
Build community support. You build support in the academy through the quality of your research. You build industry support through the impact of your research. You should think about building community support, too. In the research funding space, this means donations. Funding through donations is standard business in medical research and art practice, but not elsewhere. I don't understand why not. I don't care whether you are talking to your Advancement office about attracting significant donors or crowdfunding aspects of your research to build grassroots support. Just think about it as a possibility. If you are attracting philanthropic funding, then you are doing the sort of work that can attract donations as well.
Fail gracefully. Finally, if everything does go wrong, and you cannot maintain your group, be sure to wrap things up properly. Take care of your staff and yourself. Make sure that they know their rights, and try to help them to find other positions. All things come to an end: if your centre must end, make sure it ends gracefully.